You know I don't normally solicit my readers for anything, but this is truly an awesome opportunity! It would not be fair of me not to share this you!

Join me! Right now there is a special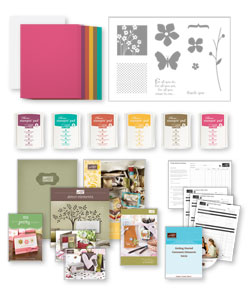 $85 mini starter kit that is available only for a limited time! While anytime is a great time to join me and the Stampin' Up! family as a demonstrator, joining now through August 31st is especially sweet! Sign up with
me in August and also get a special bonus from me!
Starting your own Stampin' Up! business means free
and discounted products, plus a little extra cash — and who couldn't use
that?! Plus, from July 15th through August 31st, you can become a Stampin' Up! demonstrator for only $85!
Plus receive a special BONUS from me!
But wait there's more! Join today and be entered into our Late Night Stamper group drawing to win a free copy of the new My Digital Studio program!

All you have to do to enter is join me in Stampin' Up! and you will be put into our drawing…
Demonstrators get 20% instant income on all orders
PLUS
20% free merchandise on all orders of $150 or more
Plus you earn 9 free stamp
sets in your first 6 months with Stampin' Start!
Plus you earn free great reward points that can be traded in for free Stampin' Up! merchandise.
Plus you get special pre-order specials on new merchandise!
Sign up today! Discounted kit offer ends soon!
You don't want to miss this opportunity! Contact ME today!!
Okay, I'll get off my soap box now!